T wo companies with roots in New England are expanding in West Palm.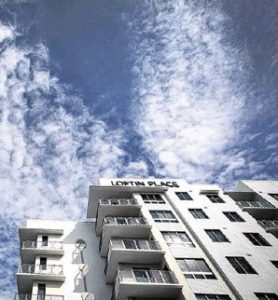 There's a growing New England presence in West Palm Beach, and we're not talking about Patriots football fans.
Two companies with roots in New England are expanding in the city.
Granite Telecommunications, of Quincy, Mass., just signed a deal to take another floor in the Reflections Office Center at 400 Australian Ave., said Peter Reed, managing principal of Commercial Florida Realty Services, which handled the deal.
The extra floor will allow the company, which now employs 107 at Reflections, to more than double its employment size there, said Rand Currier, Granite's chief operating officer. With the extra room, Granite will be able to employ up to 120 more people at that location, he said.
"We no sooner finished Granite's last expansion and they needed more space for additional employees. … This is a great example of organic growth. It's what all landlords want," Reed said.
In addition, Hotelplanner.com, the world's largest provider of online group hotel bookings, now is up to 85 employees at its new headquarters at 205 Datura St.Hotelplanner.com plans to grow to up to 120 employees, according to co-founder John Prince, who hails from New England.
"West Palm Beach is getting a much better reputation. The word is out that the city is a fun, up-and-coming city," Prince said. "And with the new tech companies coming in, it keeps getting better and better."
Prince said he recruits from northern climates. Prospective employees like the idea of working in a warm place with no state income tax. But Prince said he's also able to find plenty of employees locally.
Steady job growth of downtown businesses is important because West Palm Beach wants to be known as an up-and-coming place for industry, particularly the hot tech industry.
Not only does employment growth provide more customers to area shops and restaurants, it creates opportunity for developers who've built or are considering building apartments in the city.
Nader Salour, a principal with Cypress Realty in Jupiter, was the first developer to complete a new apartment complex in downtown West Palm Beach during this latest up cycle. He built 259-unit Loftin Place, at 805 N. Olive Ave.
Being first put Cypress in the enviable position of capturing demand for rental housing from people who work downtown or just want to be near restaurants, coffee shops and cool new stores.
"We were real comfortable because we were the first for potential residents," Salour said.
Loftin Place stands at 95 percent leased, an important milestone, Salour said.
Now Salour said he's weighing whether to build the project's second phase, which would consist of 204 apartments.
A major factor is the competition. There are three luxury apartment projects underway now that will add 800 apartments to the marketplace.
The Alexander, 210 units at 333 Fern St., is under construction and set for completion in midyear. The 315-unit Broadstone City Center, at 410 Datura St., started construction and will be finished in 2018. And All Aboard Florida, which will operate the Brightline passenger train, has started construction on its own 275-unit apartment complex, between Datura and Evernia streets west of the Florida East Coast Railway tracks.
Jeff Greene, a Palm Beach real estate investor, said he's unsure whether the demand exists for more luxury apartments once these projects are completed.
Greene is approved to build several downtown residential projects.
But he already built Cameron Estates, a 548-unit luxury complex west of the downtown, off of Palm Beach Lakes Boulevard near the Palm Beach Outlets mall. The complex is about 85 percent leased.
Although the project is nearly all leased, Greene still had enough empty units to lease 35 apartments to the teams playing spring baseball at the new Ballpark of the Palm Beaches. Both the Houston Astros and the Washington Nationals leased apartments on a short-term basis, Greene said.
The good news is that the ballpark already is helping boost business locally, in this case, creating rental income for Cameron Estates, Greene said.
But the larger issue is that Cameron Estates still had 35 units available to rent, even though it's the newest player in town and offers luxury extras, such as a private movie theater, mini-bowling alley, fitness center, dog park and culinary kitchen for teaching.
Despite the supply of new apartments in the works, Greene still is going ahead with final approval of One West Palm, a twin-tower project. This complex will feature offices, 326 luxury apartments and a hotel. Greene said he's waiting on a city committee to approve tweaks to the project, at 550 Quadrille Blvd.
Greene also still is keen to build 400 "micro-apartments," small apartments costing lower rents on Banyan Boulevard downtown. Greene said he's waiting for a variance on that project.
If you listen to executives like Prince and Currier, Greene and other developers shouldn't worry too much about whether there will be demand for new apartments. It's possible the demand could take place sooner rather than later.
Here's why.
In 2010, Hotelplanner.com had five employees working out of executive office space downtown. In five years, Prince and co-founder Tim Hentschel grew the company to 45 employees. In mid-2015, they leased 15,000 square feet of space for their headquarters at 205 Datura St.
Since then, they've added another 40 employees. They'll add another 30 more this year until they max out on their space at about 120 employees.
Hotelplanner.com's business continues to grow along with its employee size: The company now is powering all groups and meetings for Bestwestern.com. (Hotel-planner.com already powers the group booking tools of Priceline, Travelocity, Orbitz, Expedia, Hotwire Communications and Kayak.)
Hotelplanner.com's business is multifaceted. It allows hotels to compete for room blocks from among travel companies, provides professional meeting planners in major cities around the world and handles bookings for government workers.
Granite also has had rock-solid growth. In 2013, the company opened its West Palm Beach branch with 7,500 square feet of space and nine people. In 2015, Granite expanded and took 15,000 square feet on two floors. Now with this latest expansion, Granite is leasing three floors and 23,757 square feet. The new space should be ready in about two months.
"We're trying to dramatically increase our workforce," Currier said. "We've had wonderful success and it's a high-energy office."
Granite is looking for engineers, with salaries ranging from $60,000 to $100,000, and salespeople, whose base salary ranges from $40,000 to $50,000 but who can also earn commissions that can bring their salaries into the six figures.
Granite provides telephone and data services, plus equipment, to business customers of all sizes, including Fortune 100 companies.